The Opale pillow comes with three adjustment cushions. The first cushion is 4 cm (1.6 in.) thick and the other two are 2 cm (0.8 in.) thick. These three cushions are obviously made of ecological foam, because that's all we use;-)

You can use the pillow alone, with one or two cushions, or by combining all three. The heart of the pillow thus adapts perfectly to your morphology and the positions you adopt during your sleep.

Minimum height: Approximately 6 cm (2 in.).
Maximum height: Approximately 14 cm (5½ in.).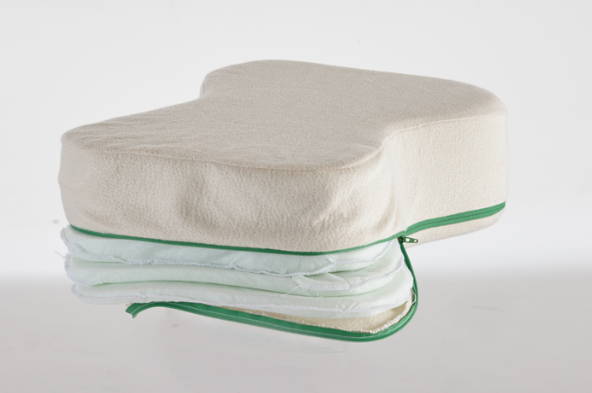 Recommendation, for improving the pillow.
Ultra comfortable !! My 3 year old boy says that's a real princess bed !! Hihih! Fast delivery and excellent customer service.
I have only one regret ... to have waited so long before getting one. I do not have any more pain in the back in the morning.
Opal
Well so far, I'm still at the stage of thickening the thicknesses.I'll start my third week with the addition of the second layer.
Everything is very comfortable.
Opal pillow
Comfortable and light I love it